Maria Mares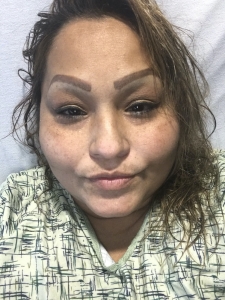 My name is Maria, and I am a 46 year-old mother of 4 children. I was born in Brownsville, Texas and I moved around a lot when I was younger because of domestic violence and ended up in Florida as I got older, where I had two of my daughters. In 2007 we left to start a new life in Kansas where I had two more beautiful children, a boy and girl. My children mean the world to me and are a very huge motivation for me to get up every day and do my best. Even if it's been very hard for us, we do it as a team.
The year 2020 has been a rollercoaster of a year for us for sure. Before I was diagnosed with either Fibromyalgia or Crohn's disease, no one really had answers for what it could be. Most times I would be sent home with just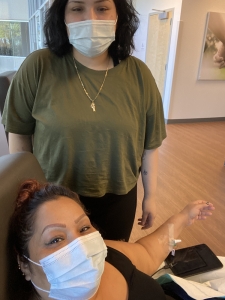 medicine to handle the pain and no answers. Really it was just constant doctor appointments, hospital stays and long nights with an inflammation in my legs that felt never-ending. It made it very difficult to complete daily tasks or even work. Not being able to go to work was very hard for me financially and also because I had so much love for the small children I would care for at my job.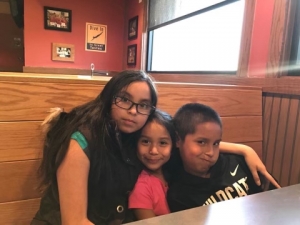 In June 2020 I had one of the worst and best days of my life. I was diagnosedwith Crohn's Disease. It felt amazing to finally have an answer for all the symptoms that I was having. That also meant I would be closer to having control of my life again. I started Stallera but before receiving the shot I was having panic attacks and expecting the worst outcome to become real. I had prayed day and night basically; fortunately, I went through with it and did not have a bad reaction. The medication helps manage the flare-ups for the most part. I will continue to receive the treatment every 8 weeks. The downside is it makes me feel very tired and I can't enjoy activities with my children like I would like to but I thank God every day I get another minute with them.
Dorothy Hippen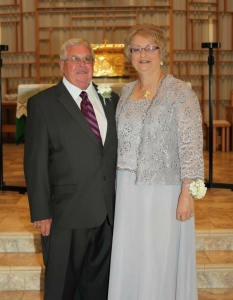 My mom Dorothy, lovingly know as Dot, was born and raised in Iowa and still resides in the small farm town of Wellsburg, Iowa.  My parents have been married for 52 years and together they have three children, 8 grandchildren and another on the way.  She enjoys crafting, cooking, gardening, and cruising around in their old convertible looking at the freedom rocks throughout the state.
On the morning of August 24th, life took a very scary and unexpected turn.  My mom went from an extremely active 73 year old to not being able to speak and barely breathe within just a matter of hours. The small nearby ER was unable to diagnose why my mom's health was deteriorating SO very quickly and after an episode where she stopped breathing all together, they decided to transfer her to a larger hospital ICU.  It would take multiple tests, consults with doctors around the nation, and a true gift from God for a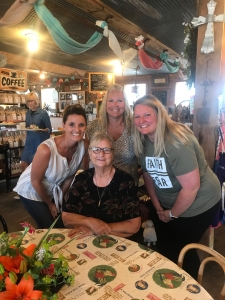 Doctor to finally hypothesize that he thought she had botulism. My mom's health was rapidly worsening and the ICU doctors let the family know if they didn't get a treatment plan quickly she would not survive.  Because botulism's official diagnosis can take from 7-10 days to confirm, the Doctor had to work quickly to plead his case to the CDC for an anti-toxin to be flown in on an emergency flight from Atlanta.  There are only 100 doses of anti-toxin in the US and without this medicine the toxin eventually attacks all the nerves and muscles in one's body and they do not survive.  Botulism is extremely rare and Type-F (the type my mom had) is the most severe and rare.  There have only been 13 cases in the US since 1981, and although they know it is foodborne, the source remains unidentified in the majority of cases.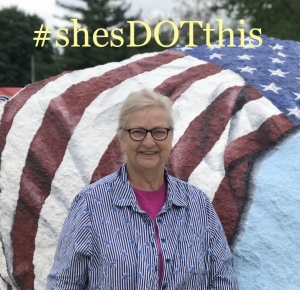 The anti-toxin saved my mom's life, but by the time it was administered she had lost her ability to breath and was basically paralyzed from the top down.  She could not open her eyes, lift her head up, speak, or do anything on her own.  She was able to lift her hands up enough to be able to communicate with us through her hand movements.  My mom spent a total of 7 weeks in 4 hospitals learning to do everything all over again – breath, eat, drink, talk, stand, walk, smile…everything.  During the majority of her hospital stays, she wasn't allowed visitors due to COVID.  She also could not just pick up the phone to call friends and family because she was unable to speak or hold a phone.  Thankfully our family was able to fill her room with "fatheads" of each of us so she could at least see our smiles on those dark days when she wanted to give up. She is currently home to finish her rehabilitation. Faith and family have given her the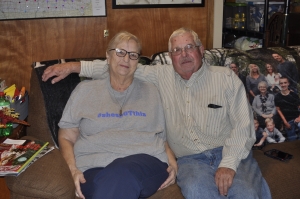 strength to not only regain her life back, but also exceed all of the bench marks doctors give her.  Right now my mom is working towards getting her strength and energy levels back.  Because her body went through so much she was also diagnosed with "broken heart syndrome" which is a heart beat irregularity that will continue to be monitored.  During the x-rays for her tracheotomy they found nodules in her thyroid and will be doing a biopsy of those.  She also has to stay home and avoid people as much as possible the next several months.  Even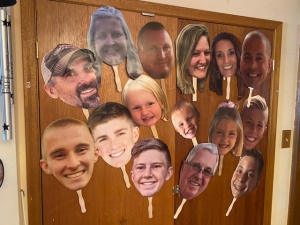 getting the common cold can compromise her whole health and recovery.
Holiday Streakers is such a great display of hope and love to which our family is very thankful.  My mom wants everyone to know to have faith, never give up, and miracles DO still happen!
Dot's family "visiting" her while hospitalized.
The Lawrence Family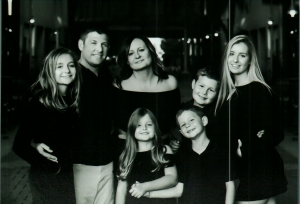 As the Ben Lawrence Family was also a recipient last year.  Below is an update since last year.
We are humbled and honored to get to be part of Holiday Streakers again this year. This is an unexpected answer to prayer but the Lord keeps showing me roads I never dreamed of as our needs rise.
This past year Ben has continued to fight his leukemia battle and we even brought in a CML specialist from NY as part of our team.  This year has brought continued struggles with treatments and after failing the fifth one, our team decided it was officially time for a bone marrow transplant. They began the hunt for a donor and we received a Christmas miracle when was found and willing. With Ben's type of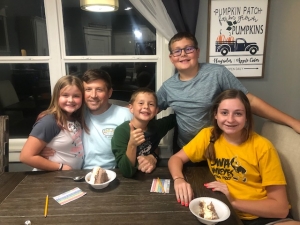 leukemia and the struggles he has had, they needed a donor willing to give directly from their bone marrow, which is more invasive for the donor. Covid also brought obstacles of knowing they have 72 hours of getting the stem cells from body to body so that meant we had to find a donor here in the US. We are incredibly thankful a match was found and the selfless donor said YES!!!
Now we begin the toughest part of our journey. As I write this, we are preparing to head to Mayo tomorrow for a week of evaluations and testing to prepare for the transplant. We get to come home for Christmas and then Ben and I move to MN on Jan 5th so he can begin chemo. The set date for the transplant is Jan 19th. I will be living in a hotel during this time as Covid doesn't allow me to spend the night at the hospital. I go during caregiver visitor hours so I can learn my role as his primary caregiver. As soon as he is stable, he will be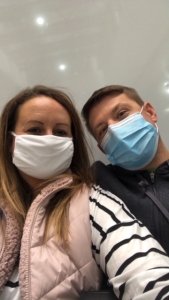 released from the hospital and will be joining me in the hotel by Mayo.
It also means our family will be split. The kids will be divided up and staying with friends and family. The fur babies will go to grandparents. Our oldest is a senior and we are praying we will be back for graduation.
While this is not the hand we would have chosen for our lives, we hope to learn from it and find ways to inspire and impact others. Thank you to all of you for your love, support, and encouragement so far.
We just started a caring bridge page to post updates as we transition to MN. If you would like to follow along, you can find us here: https://www.caringbridge.org/visit/benlawrencefamily
Thank you to everyone at Streaker Nation from the bottom of our hearts!
Nicole Lawrence and family
Bridget Barta Family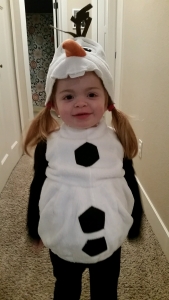 Hi, we are the Barta's.  We are a family of five: Michael and Stacey, along with our three kids Bridget (8), Luke (2), and Greta (3 Months).  Our daughter, Bridget Barta, has a rare disease called Sanfilippo Type A and that is why we have been nominated this year.
Bridget was born on July 27, 2012.  Bridget was a beautiful baby with a TON of hair.  She was our first child and we were incredibly happy to be first-time parents!  As Bridget reached the age of two and a half, we realized that she seemed to plateau with her developmental milestones.  She was a fairly normal kid up until that point, suddenly we noticed some change.  As the next year or two passed Bridget not only was missing milestones, but also regressing and forgetting information she had already learned.  From basic shapes and colors…to animal sounds…Bridget was becoming confused and simply not remembering things that had come easily a year before.
During her third, fourth, and fifth years of life we struggled as parents.  Frustrated with the search to find answers or wondering if we simply were failing as parents.  From speech therapy, summer school, OT, PT, and countless doctors….Bridget just seemed to not be able to break through any new milestones.  Potty training, bike riding,

talking, you name it, we couldn't gain ground.  Even simple skills in order to keep her safe while using the stairs, not touching the stove, not running into the street….she could not learn simple things that most little ones pick up naturally.  We went to doctor after doctor looking for answers.
It wasn't just her inability to learn or grow, or her singing suddenly stopping, it was also the side effects of this terrible disease we didn't realize she had.  Never sleeping, being incredibly hyper active, choking constantly on her food, random days of crying and running around in agitation, and some other terrible side effects I'll leave out.  Basically, we were in survival mode.
As the years progressed, we came to terms with the fact that Bridget had special needs.  However, we did various tests to try and determine what was going on.  We had hopes of finding an answer that would help her and us as a family.  The first couple tests came back normal and our months and years of trying to figure out life continued.  Finally, through an amazing developmental doctor at Blank Hospital in Des Moines, Dr. Noble, and a more in-depth blood test, we determined that Bridget had Sanfilippo Type A.  I remember him giving us that diagnosis on the phone.  I immediately jumped on Google to see that the daughter who I love more than life itself had a terrible, rare and fatal disease with a short life expectancy.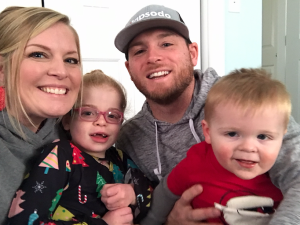 Sanfilippo is basically Children's Alzheimer's.  Imagine your kid living a normal life until 2 or 3, but then all growth stopping….then slowly losing everything until they pass away.  The ability to learn, talk, laugh, sing, smile, eat, walk….everything slowly leaves them.  It's like a painful, slow deterioration of your baby and their brain.
I still consider Bridget our baby.  She is the sweetest, happiest kid on Earth.  Unable to reason things out in her brain….unable to sin or truly do something mean….she only knows love. She is our baby who I have to help walk, eat, and carry around everywhere I go.  She is the biggest 1 year old on Earth!  Through all the crap and the constant daily battles with this disease…I have realized how important every day is with our family.  How important every day is with her.  How amazing it is to see Bridget smile…as that is her form of communication now.  She is so special to our family and truly made me a better person.
Bridget is eight now.  She is still incredibly loving.  She's phenomenal at smiling and gives the best kisses in the world.  You may see her wearing a ridiculous pink helmet to protect her from falling, or riding around in her stroller/chair while on walks.  After a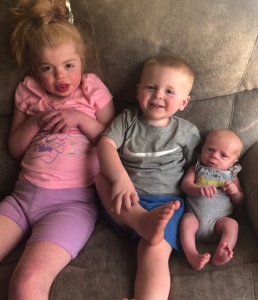 couple miscarriages, in-vitro, and multiple genetic tests, she is joined by her little brother and sister who DO NOT have this terrible disease.  Her brother Luke has already advanced far past Bridget and in fact is her caretaker.  Luke does everything for that girl – helping her with food, water, and anything she needs.  Bridget is starting to realize she now has a little sister in the house too…and we have caught a couple smiles as she looks at the new little baby in our house.  Our family is complete for the time being and we hope Bridget will be with us as long as possible.
You can follow along with Bridget's journey with Sanfilippo here:
Brya Graham Family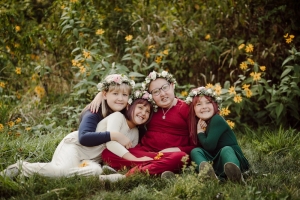 11/16/2020 update!
Hey so we have a fantastic update on Brya! She had her follow up MRI yesterday, 11/16/20 and we were expecting to hear the news that her tumor has responded but stayed stable. We were so excited to hear that it is responding and continuing to shrink!! While we know that this wont ever go away we are very hopeful for at least a little more time with our sweet girl. This came at an amazing time as this weekend I had to tell her that one of her friends that she met through the oncology world passed away and she was convinced that she would be next. We celebrated last night with a dinner out, which we don't do much as she is immune compromised, and she made friends with all of the staff at the restaurant and told them all her wonderful news. Our waitress was so sweet, she knelt beside our table and listened to Brya's story as well as laughed and cried with her. It was so nice to see her show some emotion with Brya as so many don't know what to say and just give her a blank stare.
Brya's story
My daughter Brya is the oldest of 4 girls. She was born in May of 2009, and is now 11 years old. Her sisters are Kaymin (age 10), Ashlynn (age 8), and Savanna (age 5). We actually found out we were pregnant with little Savanna just 2 weeks after Brya's original diagnosis, and I spent my pregnancy and first 6 months of Savanna's life in and out of the hospital while my oldest went through treatment.
Just after New Year's Day in 2015 Brya's symptoms really began. My step-dad had just passed away, so it was already a hard time, and then Brya got a migraine that just wouldn't go away. She had this migraine for about 3 solid weeks. After multiple visits to the doctor, where they all told me she was too young for migraines, I was getting nowhere. I was finally able to get her in with her own pediatrician and I told him, "I get migraines, you can't tell me that my 5 year old curled up in a ball, under a blanket and in tears because the lights and sounds hurts her head, isn't a migraine. Please don't be another doctor to tell me she is too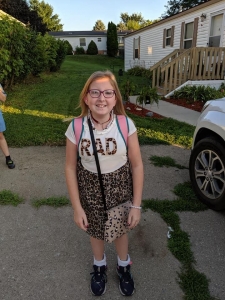 young for them!" Thankfully, he believed me. He actually walked across the hospital to the neurology clinic and talked to the neurologist there, and came back with an appointment for the following day. I was not happy during that appointment, as I had to beg him to order an MRI, even though I have a family history of benign brain tumors. The neurologist did finally agree to order one, but he was convinced she was just dehydrated. While we were at this appointment Brya had two of what they are calling "pseudo-seizures." She would be talking to us and then would just suddenly zone out like she was staring off into space for a few minutes. The following day she had one of these at school as well, but this one lasted a lot longer. I had her grandpa pick her up from school and take her home with him. When I went to pick her up after work at 5:30, he said she had been sleeping since 11:15 that morning. When she got in the car I noticed that she wouldn't turn her head, she turned her whole body. When I asked her to just turn her head she tried and just started crying. At that point I decided enough was enough and I was taking her to the hospital. I took my younger girls home and then immediately took Brya to Blank Children's Hospital. The resident physician ran a few tests on her that involved running in the halls, as I had told her that her balance was off and she hadn't been walking in a straight line for a couple days. After they returned from running in the halls I was advised the plan was to get some blood drawn and start an IV for fluids, and then they were going to order a brain CT. We went down for the CT about 9pm and when we came back up Brya fell asleep. About 10:15pm the attending physician came in and said he was going to find someone to come sit with her so that we could go somewhere and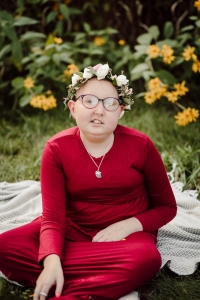 talk. He took my mom and I into a small family waiting room and told me that the CT had showed a baseball sized mass on her brain stem. We were immediately admitted to the hospital and the next day Brya underwent a 4 hour long MRI of her brain and spine under general anesthesia to confirm the oncologist's diagnosis of Medulloblastoma. Once she was done with that and started to wake up, we were transferred to Mercy Medical Center for surgery. She was admitted to the PICU and the following morning she was in surgery by 10am to have her tumor removed. This surgery took about 8 hours, and was the longest day of my life. After surgery, she spent 3 days in the PICU and a day and a half on the regular peds floor, and then was discharged home. A couple weeks later she started treatment. She underwent 6 weeks of radiation to her brain and spine as well as 56 weeks of chemotherapy, which included weekly infusions in the clinic and also a once monthly hospital stay for a weekend to get inpatient chemotherapy. She also spent many unplanned stays in the hospital for fevers. Once a kiddo has a port put in, if they get a fever of 100.4 or higher it means an automatic trip the clinic if during regular hours, or the ED if after hours for blood cultures and other labs. During treatment she also had scans every 3 months. Once she was done with treatment we eventually moved to scans every 6 months, and then to yearly. She spent 4 good years NED (No Evidence of Disease), but then in May of 2020 she had a seizure. She woke up one morning and told me she didn't feel good but couldn't really explain it, just said her body felt disgusting. I told her to take some ibuprofen and lay back down for a bit. About 45 minutes later my other daughter called me and told me that now Brya was saying she couldn't breathe and she was too young to die. I rushed out of work and home. I took her to the doctor and they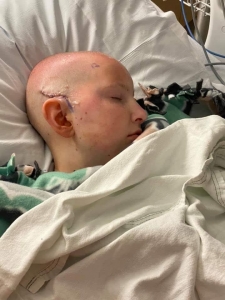 said clinically she was fine- her reflexes were great , and her O2 was good as well. They couldn't find anything physically wrong with her. On the way home, I stopped at Wal-mart to grab toothpaste and mouthwash for my youngest child and when I got back out to the car I went to put my debit card back in my purse and noticed her hand twitching. By the time I sat up from my purse she was in the middle of a full blow grand mal seizure. I called my husband to tell him what was happening and drove her to Blank Children's Emergency. I dropped her off at the door with a security guard and went to park my car. By the time I got parked and got inside she was having another seizure. I got her registered quick while the nurses and doctors took her to the back. When I walked into her room she started having yet another seizure. They were finally able to get her some medication to help stop them. They did another CT in the ED and that actually didn't show us anything. She was admitted to the hospital and that afternoon she had an hour long EEG done that caught another seizure. The following day she had her regular yearly MRI done and that showed some swelling on her brain but no tumors. At this time we just assumed the swelling was from the 4 seizures she had the day before. We did however start a work up for any and all infectious diseases and anything we could think of that could have caused the seizures, as she had never had a full blown seizure like that before. These all came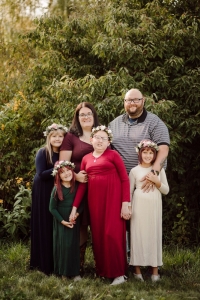 back negative. We did a spinal tap to check for things and this came back negative as well. She had a follow up MRI about a month later, which showed that the swelling had increased just a little bit and was not getting better as we had hoped. At this point we were referred back to her neurosurgeon at Mercy Medical Center to look into doing a biopsy on the swelling to see what was going on. We went in for a biopsy  on July 7th, 2020, and on July 14th we got the call with the results. My sweet 11 year-old baby girl was diagnosed with a terminal high grade Glioma. The life span of kiddos with this tumor is about 13 months. The doctor said that with treatment we may get about a year with her and without treatment we would only get about 6-9 months. We did another MRI in August and it showed that her tumor had grown much faster than we thought it would. At the beginning it was just her right temporal lobe that was affected, but in August the tumor was covering the whole right side of her brain and another  grape sized tumor had formed and spread to the left side of her brain as well. We were told at that point that our time frame with her was cut in at least half. We have opted to do treatment and have now completed another 5 weeks of radiation and are getting ready to do her 2nd round of chemo. Towards the end of radiation we did another follow up MRI and found that the tumor has shrunk significantly! We will do another MRI sometime in November to check on the progress after she does her 2nd round of chemo next week.
Freddie Windsor Family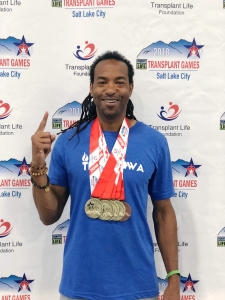 It was the Spring of 2012 when my husband, Freddie began having difficulty breathing. He would notice this particularly when trying to play basketball in the mornings before work and soon it became difficult for him to breathe at night when he would lie down to sleep. After a couple of visits to our family physician, things were getting progressively worse and so he went in again. This time I came with him. Our doctor ran a few tests, did a chest x-ray, that came back clear, and so then he did blood work. By the afternoon we received a phone call that the blood work did not look good and that we should immediately go to the hospital to get a CT scan of his chest. This is when we were told that Freddie had a large amount of fluid in his lungs that was leaking from his heart (this explained why not only was a game of basketball difficult, but when lying down, he was getting "choked out" by the fluids backing up from his leaking heart) We scheduled an appointment with a cardiologist in Des Moines. He told us the results of his EKG and blood work showed that Freddie had been having "silent heart attacks" and all signs and symptoms point to congestive heart failure. We could not believe what we were hearing.
Prior to this Freddie had always been VERY active and was EXTREMELY athletic, working out at least five days a week, including three early mornings before work to play full-court basketball at the local YMCA, and at least two days of weight lifting. During every season but winter, Freddie was on his mountain bike riding for hours, with a specific love for dirt trails – the more logs and ravines to jump, the better. Freddie coached nearly every sport you could think of; being active and involved in athletics was truly one of his passions. So this news hit him, hit us, especially hard.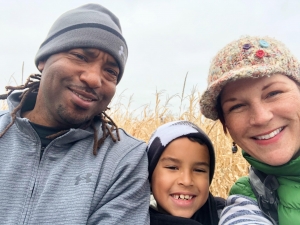 After more tests and echos and a couple of daily meds, he seemed to really be doing fine. He would take it easier than he had before in terms of physical activity, but really, the rest of his summer was pretty low stress, which was a good thing, because we were expecting a baby boy in the Fall. Unfortunately, the Fall came and his health took a nosedive QUICKLY. By the time we went back to school (I work for Des Moines Public Schools, and at that time, Freddie was working for DMPS too) he was very ill, eating only an apple each day or forcing himself to drink an Ensure drink too. Breathing was VERY difficult for him and each day got scarier. We were fearful and there were a lot of tears. There were also a lot of appointments for bloodwork, echos, EKGs, Holter monitors, and a couple of hospital stays.
Through all of this I am creeping closer to my due date, adding more worry to what we were already facing. Finally, it was decided after a couple of days in our local hospital and Freddie receiving two IV drips to treat heart failure that he would be transported to Mayo in Rochester by ambulance. It goes without saying, I followed closely behind. His first day there, I will never forget meeting one of the cardiologists that told me, "He doesn't have weeks to live, he has days…"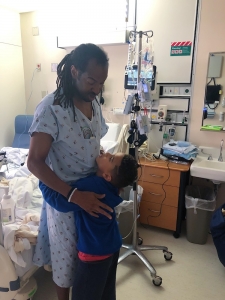 He was moved to the ICU the next morning, and this is where he stayed for the next 28 days. I slept on a cot each night, not wanting to leave his side. It wasn't long before the Center of Disease Control and doctors tried to figure out how someone so healthy became sick so quickly. Cardiologists went in through his jugular and did a biopsy of his heart to see if they could pinpoint what virus might have initiated his viral myocarditis (heart failure caused by a virus) but they couldn't find anything unusual or rare. Their conclusion was that he simply had a bad cold and when his immune system was "down" the virus attacked his heart.
By the next day he had a balloon pump placed into his heart in the hopes that this pump, along with the IV drips would take the stress and some inflammation from his heart. He stayed lying flat for 14 days with no sign of improvement, but not from a lack of prayer. It was then that the cardiologists, surgeons and LVAD coordinators felt it was best that he move forward with an open heart surgery to place a Left Ventricular Assist Device (LVAD) into his heart in order to keep him alive while he wait on a heart transplant. Needless to say, this time was very emotional for us (an open heart surgery, finding out he needed a heart transplant, a baby on the way in a few weeks) but also a time when all we could do was lean into our friends, family and faith, trusting that The Lord would be with Freddie through it all.
The surgery was successful, and after his week and half recovery, Freddie was allowed to go home. A week later, in November 2012, I had a c-section and the sweetest little boy, Zion Amari, was born. I was so happy that I had Zion in Des Moines (rather than in MN) and even more joy-filled, that Freddie was right there by my side.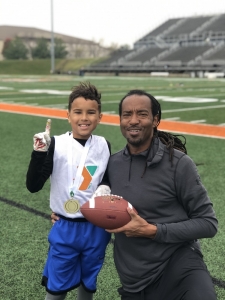 It is fair to say that recovery had been long with weeks of cardiac rehab, managing 15-20 meds a day and numerous set-backs all while managing life with a newborn. Freddie got used to living life with a driveline that led from his heart, out of his abdomen (which required daily sterile cleaning) and connected to a large controller and batteries that he carried in a pack or bag or vest 24/7. This included of course, a special waterproof bag that went with him even into the shower. This is also the time where the official wait for a new heart began. Freddie lived at home with the LVAD keeping him alive and all was fine until spring/summer of 2013. His health began to decline rapidly again. (ICD placed in March of 2013, ICD removed in August 2013 and a pacemaker replacing the ICD) I took him back and forth to and from home to Mayo more times than I could count. His kidneys began to struggle at this time too. (They were busy flushing so much fluid that began to leak again from the heart that they never got the blood supply they needed, so they started to fail.) By the end of the summer cardiologists had him living at Mayo-St.Mary's Hospital in Rochester, MN for around-the-clock care. While he lived at Mayo, I would stay at home with Zion and Freddie's big kids, my stepkids (teenagers at the time) so I could teach middle school all week. (I knew I needed to maintain income and insurance and save my leave from work for his transplant.) I'd always pack the car on Thursday night so after teaching on Friday we could head to Mayo to visit Freddie for the weekend. Finally, by the Fall, even while living at Mayo, he had gotten very sick. His LVAD just wasn't able to help any longer and his heart was failing him again. He was taken into surgery and his heart was removed and was replaced with a Total Artificial Heart (TAH) and he began bedside dialysis. This was a few days before Thanksgiving of 2013. Freddie continued to live in the ICU at St. Mary's. My kids and I would continue to go back and forth to visit him. In January I received a phone call after school one day. There were cardiologists with Freddie to tell me that his match had arrived. That night Freddie was in surgery and he received the most generous gifts, a heart and kidney, from a 21-year old donor, Steve, who passed away in a wintry car accident. Freddie and I had to live in Rochester for three months after his transplants in order to attend all of the appointments. We rented an apartment while still paying our mortgage back home. It was surely a whirlwind with a baby and being a caregiver to Freddie too. Since then we've been so touched to meet Steve's family. They are so kind-hearted and they bless us whenever we see them or get a card from them in the mail. Unfortunately, we had to tell them last year that Steve's heart and kidney are failing Freddie. He spent all of 2019 very sick again with multiple trips to and from Mayo and many stays in St. Mary's as well. He has been officially listed for another heart and kidney. So…we wait again for the match for him. We know so much of what we are facing. For example, we know all about life with immunosuppressive drugs, heart biopsies, and trips to and from Mayo. We also know we will have to find a way for me to afford to take time off of work to be with Freddie for the surgeries and months of recovery. We know that we will need to find a place to live in Rochester while still paying for the mortgage in Des Moines. We know so much about what to expect, yet there is so much underlying worry and fear of what will be different this time. Freddie has been opened three times already (LVAD, TAH, and transplant) so there is more danger with this next sternotomy and scar tissue. This time around Zion isn't a baby and I can't haul him in a carrier or in a stroller. He is a second grader. There is stress around what will happen for him with school and time away from home or time away from us if he stays with family.  However, we also know that we will be okay, we will get through this again because our families and friends and even people we will never meet, like the Holiday Streakers, will be with us to lift us up and support us on Freddie's continued journey to another heart and kidney transplant. The kindness of others has blessed us continually over the years so I don't have any reason to think the blessings, prayers, love and support will stop now.
If you would like to read about Freddie's journey to his next gifts of life through organ donation, you can follow his Caring Bridge here: https://www.caringbridge.org/visit/freddiewindsor

Grant Leitschuh Family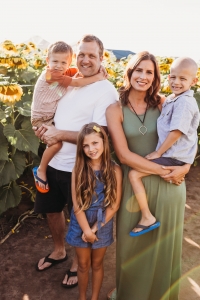 Grant was born on his due date.  He was your typical rambunctious boy and seemed to be physically ahead of his time.  Soon after Grant turned 2, he got a fever every day, but not all day long. After 5 days of fever we took him to the pediatrician thinking he had an ear infection.  Everything came back fine.  They told us to come back in 2 days if he spikes a fever again.  He did so we took him back.  Everything checked out fine again and he did not have a fever.  They said it was probably a virus upon another virus and we went home.  He spiked a fever around dinner time that same night so we were told to take him to Children's Hospital since they can do more testing.  It was a Monday, and we were not in a hurry, so we took him in after dinner.  Little did we know he would not go home for 2 weeks.  After an x-ray, ultrasound then many more scans over the next couple of days, then a biopsy, we were told the earth-shattering news that Grant has Stage 4 high risk neuroblastoma.  We had never heard of that before.  From there things happened so fast.  He had a line placed in his chest.  There was a complication from that surgery that resulted in him being in the ICU with a tube in his chest to drain the blood.  Soon after chemo started.  We were released from the hospital Christmas Eve.  From there Grant had more chemo, more ICU stays, had a 12-hour surgery in New York City, more chemo at home, immunotherapy, and proton radiation at Mayo.  Treatment started December 2016.  Grant was considered stable (he has one spot on his skull that has remained stable since December 2017).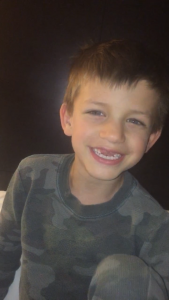 Grant started a vaccine trial at Memorial Sloan Kettering in NYC in May 2018.  He even had his line removed from his chest!  We could not be happier, and everything was on track that he would be cured! On his 5th vaccine shot in September 2018 (which is like having hot lava injected in your skin that causes pain, redness and swelling) we found out he had relapsed.  He relapsed in his bones, soft tissue, and bone marrow.  He has been in active relapse treatment since and has endured many harsh treatments that come with a magnitude of side effects.  Everything was going well until April 2020 where he progressed 2mm and 6 mm and it was causing leg pain. He received more radiation and that worked.  His pain went away almost immediately.
We switched up the treatment he was on, but that was proven to be ineffective as a new spot on his skull showed up 8 weeks later.  Not sure if it was truly a new spot we scanned again, and 3 more spots showed up.  We headed back down to Mayo to get set up for his 3rd round of radiation.  It was on the MRI that was done for the planning for the spot on his skull they told us there was a brain lesion.  It is rare for a brain relapse to happen this far out from diagnosis.  The team out in New York made the protocol for brain relapse.  Before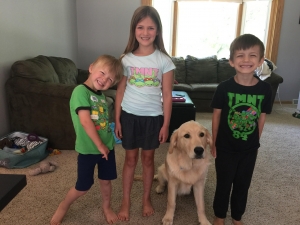 them, there was no cure.  The doctor in New York was not convinced it was a true brain tumor and reviewed everything with the team there.  The only was to know for sure was to have surgery.  We flew out to New York City and Grant had brain surgery.  This was on September 15th.   He was released 48 hours after surgery.  The surgeon talked to us after surgery and said he did not see any obvious signs of cancer, so we had so much hope that is really was not cancer.  We waited over a week for pathology to come back and it did come back as neuroblastoma.  We flew back home to do chemo and get re-set up for total brain and spine radiation.  Grant is just finishing radiation.  We need to scan again to determine the next step.
Grant has had a ton of chemo, countless pokes, many blood and platelet transfusions, many small surgeries, so many hospital stays, and been sedated over 100 times.  All these treatments come with horrible side effects including (but not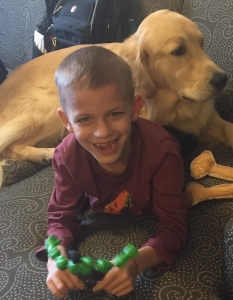 limited to) hearing loss, growth issues, losing his hair multiple times, nausea, vomiting, gut issues, thyroid issues, he may need a hip replacement by the time he is a teenager, lower IQ, cognitive issues, and the list goes on.  It is horrible hearing the side effects. All in his 5 years of life. As a parent, you want to protect them and take it all away and wish you could take their place.  Grant is just the cutest, sweetest little boy and very smart.  He also has an awesome older sister and wonderful little brother that wants to do everything Grant wants to do.  Grant has endured horrendous things these past 4 years he has been in treatment, but it is amazing seeing him smiling and having fun.  I was told I had cancer when I was pregnant with Grant.  That is extremely hard to hear.  Being told your child has cancer is indescribably so much worse.
Our family has been blessed by so many with their prayers, meals, financial support, and overall kindness.  In this journey you feel very alone, so being reminded by people that they still care and pray really helps us through.  Right when you wonder how we are going to make it through, we get a wonderful blessing such as being nominated for Holiday Streakers.  It is a roller coaster of emotions that takes a toll on everything in your life and changes how you live.
Rowan Lanza Family
Rowan's Story, as told by her mother, Rachel: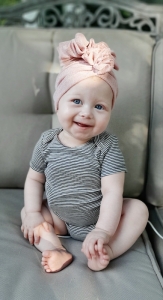 Rowan was born on October 5, 2019, five days before her guess date. After ten hours of labor, our perfect, healthy baby girl was in our arms and in that moment, our world changed forever.
Rowan was perfect in every way. Her cheeks were full and round, her eyes big and expressive. Our families fell in love instantly with Rowan's bubbly personality as it developed over the next few months. I remember her first smiles, her first laugh, and her delight at learning to express herself. For several months, Rowan continued to meet developmental milestones and we never had any reason to question her health.
Between four and seven months of age, Rowan developed a number of unusual symptoms. At first, Rowan's doctor thought a respiratory infection was responsible for the persistent cough that she had, but the longer it persisted, the more suspicious we became. Rowan also began gagging and vomiting after coughing fits, both of which became more and more frequent. She went from sleeping several consecutive hours at night to cluster-feeding all night long. She grew increasingly uncomfortable during tummy time and arched her back while breastfeeding. She developed a firm abdomen and stopped burping following feedings, leading us to believe she had lots of gas that was making her uncomfortable.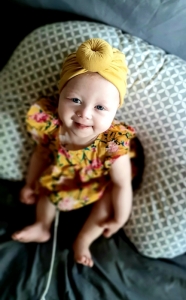 May arrived, and I consulted with Rowan's doctor after hours of independent online research. Her doctor ordered a chest x-ray and blood work to rule out infection to explain the cough. The x-ray and blood work showed no signs of infection, rather at that time, the blood work revealed only a very mild anemia with no discernable cause. At that visit, I requested a consultation with a pediatrician to explore the possibility of infant reflux. My research had led me to conclude that reflux would explain several of Rowan's symptoms. Little did we know that our world would change forever for a second time on May 6,, 2020.
At that appointment, as I attempted to justify why I thought Rowan may have reflux, the pediatrician informed me that Rowan's abdomen appeared bloated, and asked me politely if she could feel my daughter's belly. Upon hearing the pediatrician speak the words "I feel what I believe to be a mass in Rowan's abdomen. I think it is in the liver but I need a CT scan to confirm its location," I was speechless. In a split second, I went from utter surprise to denial to incredulity. I had come to consult with the pediatrician about the possibility of gastric reflux. Not cancer. Please God, not cancer. Even after being told that a liver mass was very likely, my medical brain took over, and looking for the smallest glimmer of hope for a different diagnosis, I asked the pediatrician, "What are your top three differentials?" She looked me in the eye and repeated, "I believe your daughter has a mass in her liver, I believe your daughter has cancer." Then came acceptance, and I lost sight of everything in the room as my eyes filled with tears and I clung to my baby.
The rest of that day is full of blurred memories. I called Noah to explain that we needed to take Rowan to the hospital for an emergent CT scan. The diagnosis of a liver mass was confirmed. The mass was approximately four times the size a normal liver should be in an infant Rowan's size. We were then transported by ambulance to Blank Children's Hospital in Des Moines, Iowa. At ten-o-clock at night, we met with the on-call pediatric oncologist who would become Rowan's primary doctor. She explained that there were two main differentials for the cancer in Rowan's liver, but that her primary suspicion was a cancer called hepatoblastoma. She explained that over the next few days, Rowan would be sedated to undergo a series of imaging diagnostics, a liver biopsy, placement of a central catheter for chemotherapy administration, and placement of a nasogastric tube (NG) for supplemental feeds should she stop nursing following the initiation of chemotherapy. And finally, we were informed that as a result of hospital policy pertaining to COVID, Noah was not allowed to stay in the hospital with us.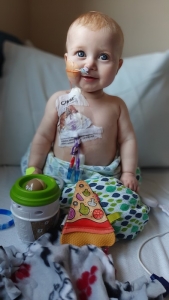 Rowan and I spent ten days in the hospital for our first hospitalization, and Noah was allowed to visit with us for approximately one hour at a time. At the time, we lived 45 minutes from the hospital, so he only found it possible to visit once each day. I spent my first Mother's Day in the hospital, alone with my baby. I attended my class' virtual graduation ceremony from veterinary school and recited the Veterinarian's Oath in our hospital room. Family members and several friends of family sent cards and flowers to ease the pain of the nightmare that had become our reality.
Rowan's liver biopsy confirmed a diagnosis of hepatoblastoma. Of the pediatric cancers occurring in the liver, hepatoblastoma is the most common. Despite being "common" among pediatric liver cancers, this type of cancer accounts for less than 1% of pediatric cancer overall. Approximately one in a million children worldwide are diagnosed with hepatoblastoma.
We agreed to participate in a study that seeks to standardize a treatment protocol between the US and Europe for hepatoblastoma. Rowan was randomly selected to undergo treatment according to the current US standard, which consists of six cycles of chemotherapy and surgery either to resect (remove) the tumor or to receive a liver transplant.
Medications to alleviate nausea and pain were administered through Rowan's NG tube. Because Rowan's tumor compressed her stomach and limited her feed intake, Noah and I also supplemented my stored breastmilk through the NG tube approximately ten times a day. But after five weeks, Rowan was not gaining weight or following appropriate growth curves. She lost two pounds since the time of her diagnosis, and at that time her team felt it was necessary to begin total parenteral nutrition (TPN), which provides adequate amounts of proteins, lipids (fats), vitamins, and electrolytes through her central line (IV catheter). It was difficult to accept that our baby needed this degree of support to sustain her, but we were also relieved that her tumor and frequent vomiting would no longer limit her ability to receive adequate nutrition.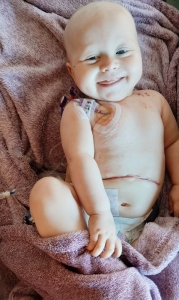 After four cycles of chemotherapy, Rowan's tumor had shrunk by approximately 40 percent. Despite a fantastic response to chemotherapy, Rowan's team determined that a liver transplant was most appropriate for her moving forward. A unique fact about the liver is its capacity to regenerate and because of this, a living adult can elect to donate a part of their liver to a transplant candidate. A donor, who wishes to be kept anonymous, came forward to offer a portion of their liver in a most selfless and generous act to give Rowan the best chance possible at a successful transplant and a healthy, disease-free liver. After undergoing a thorough medical evaluation and several tests, Rowan's donor was approved, and the transplant was scheduled for August 11, 2020.
We spent 32 days in Omaha, Nebraska to have one of the top transplant teams in the nation conduct Rowan's transplant. Once again, Noah was not allowed to stay in the hospital with us. Rowan's transplant was overall a wonderful success and she suffered no serious complications. The first few days were impossibly difficult to endure. For 24 hours, Rowan remained under sedation on a ventilator as part of protocol because the amount of fluid she received during surgery could cause fluid retention in her lungs. When she was taken off of the ventilator, she was in so much pain from the surgery and from fluid retention under her skin (four pounds of fluid to be precise, a quarter of her body weight). With each day that passed, she improved considerably. And finally, four days after surgery and much to our surprise, our little warrior was sitting up, playing, and talking like herself again. After what felt like an eternity, we finally felt like we could breathe again. We had our baby back. One week after she received her new liver, Rowan underwent a second surgery to receive a stomach tube (G-tube), which prolonged our hospitalization but would serve to make administering medications and future feed supplementation much easier for her.
While in Omaha, we started Rowan's fifth cycle of chemotherapy before returning home. Starting her fifth cycle was a bittersweet moment for us. During the month break from chemotherapy in Omaha, Rowan had grown eyelashes, eyebrows, and her hair back, and she felt better than she had in months. As happy as we were to be so much closer to the end, we knew that the weeks ahead would be long and hard. Not only would Rowan's immune system be suppressed as a result of chemotherapy, but the steroids and anti-rejection medication which are required for her transplant cause further immune suppression.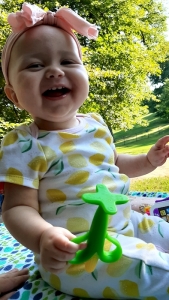 We also knew we would be cutting it close by returning home when we did during her fifth cycle. Because the chemotherapy drugs Rowan received were so hard on her immune system, she had always gotten sick to the point that required a mid-cycle hospitalization. And sure enough, on our first night home, Rowan developed a fever that required her to be hospitalized in the middle of the night. We had been home for no more than nine hours before returning to our home hospital in Des Moines. Despite wishing we could have spent more time at home, we were simply happy to be back with a team that we had come to know and love. We spent several days in the hospital because Rowan's immune system could not fight the infection that had developed at her G-tube site. We had never seen our little girl suffer as much as she did during her fifth cycle, and we returned home for only three days before it was time to return for cycle six.
With each cycle of chemotherapy, the body recovers slower than before. We missed our bubbly, smiley girl who wanted nothing more than to smile, play, and laugh, but simply did not have the energy most days. During her sixth and final cycle of chemotherapy, Rowan received no less than four blood transfusions and two platelet transfusions. She developed another infection at her G-tube site and had persistent fevers higher than we had ever seen, which failed to respond to antibiotics for several days. Her body was begging for a break from all it had endured over the previous five months. Rowan spent her first birthday in the hospital, and for a couple hours a day, she felt well enough to participate in the celebration. We filled the ceiling above her bed with balloons and a "One in a Million" banner, and friends and family from all over the country sent cards and gifts for her to open. Her first birthday was nothing like we imagined and yet everything we could have hoped for. Even though she didn't get to see her family, our girl spent her birthday week surrounded by people who love her like family.
Finally, on October 14th, Rowan's chemotherapy came to an end. At last, we were home with no impending hospitalizations in the foreseeable future. Rowan's post-treatment tests and scans were scheduled that same week. One hundred and sixty-six days after her initial diagnosis, Rowan was declared cancer-free. Rowan had endured so much since May: 126 days of chemotherapy, 73 days in the hospital, 32 days in Omaha, 27 blood transfusions, three platelet transfusions, and one liver transplant. Although Rowan won't remember these events and everything she has endured, the day will come that she will understand how strong she had to be. Through it all, Rowan has shown us all what true strength looks like as well as what pure joy looks like.
A chapter of Rowan's story has come to a close, but her journey is far from over. Right now, Rowan's G-tube makes administering medications quite simple, but one day soon, she will need to take those medications by mouth through a syringe. One day, she will learn to swallow pills. One day, she will learn to keep her own schedule for taking her anti-rejection medication. Right now, Rowan's central line (Hickman catheter) makes taking blood samples easy and painless. But soon, she will learn that taking blood samples is going to hurt, because needles will be involved. And one day, she will understand why the needles are necessary. Right now, ensuring adequate nutrition is simple thanks to TPN (total parenteral nutrition) administered through her catheter. But soon, Rowan will need to be weaned from this nutrition source because long-term TPN can compromise the health of her new liver. Because Rowan has not shown interest in taking food by mouth as a result of chemotherapy and frequent vomiting, her team will find alternative ways to ensure she receives the nutrients she needs for proper growth and development.
Though we will try our best, Rowan will never have a completely "normal" childhood. She will never receive certain vaccinations because her immune system cannot respond appropriately as a result of her medication. She will never experience the taste of a pomegranate or grapefruit because they can significantly alter the absorption of her anti-rejection medication. She will never swim in lakes or ponds because there are high risk infections that can come from those sources, which her immune system will not be strong enough to fight. As often as possible, she will not be exposed to people who are displaying symptoms of sickness. She will not take new medications, nutritional supplements, or consume energy drinks without first consulting with her transplant team. She will have to be very careful to reduce exposure to sunlight and when spending time outside, she must frequently apply sunscreen. For the rest of her life, she will have to choose travel destinations carefully and may receive additional vaccinations appropriate for her destination.
We always knew that Rowan was special. Now knowing that she is "one in a million" only solidifies what we have known since we first brought her home. Our girl is a warrior who has won so many battles in such a short time, and this is only the beginning of her journey.
Rowan's story and GoFundMe is open to the public through her Facebook blog titled Rowan's Story.
Joey Condon
Joey's Journey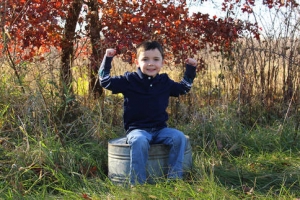 Our family is one full of love, faith, and fun. Jim and I have been blessed with four wonderful children. In mid-October, 2016 we put everyone to bed in our typical fashion and in the early morning hours of Joey (5 ½ years old at the time) came into our bedroom to snuggle. Around 7 that morning, all of the sudden our bed started to shake. I thought Joey was being silly and I was preparing to tease him about making such a commotion. However, when Jim and I looked up, we quickly realized Joey was having a seizure. It was terrifying. As a professional in the world of special education, I have unfortunately seen children suffer seizures before – however, NOTHING prepares you to see your own child in this condition. We had put a seemingly perfectly healthy child to bed on Friday night and were waking up to a nightmare. We called 911 and were immediately transported to the hospital. The next few hours were a total blur, with Joey remaining in a post-seizure state for about 90 minutes, through blood draws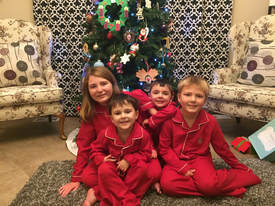 and other various tests. When he eventually "woke up," hearing his sweet little voice was an absolutely precious gift. All of the immediate test results came back "normal", and we were told children sometimes have seizures for no known cause. We left hopeful this was the case for Joey.
Our hope that Joey's seizure was a one-time occurrence disappeared, as the next four weeks brought about frequent seizures, ambulance rides, ER trips, EEGs, and a four-day hospitalization at Blank Children's Hospital. On 11/10/2016, our deepest fears were confirmed: an MRI revealed Joey had a brain tumor. There really isn't anything to prepare you to see such images or hear these words from a doctor talking about your child. Every piece of our world was thrown into immediate chaos – and yet everything seemed slow and surreal – all at the same time. Thoughts streamed in our minds: This can't really be happening –  What kind of tumor is this? Will Joey survive? What will it take to make sure Joey survives this? How did this happen? Is this really happening? What will we tell our other kids? How will we all survive this?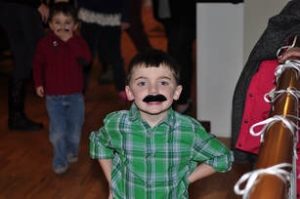 We left the hospital on November 11 and headed home to try to figure out what we were supposed to do next. Joey's neurologist had referred us to University of Iowa and Mayo. Appointments were made. Hotels were reserved. And, we slowly started sharing the news with our extended family and closest friends. We proceeded to have appointments in Iowa City and in Rochester. More tests, more bloodwork, more images, more of everything – including growing fear, became part of our everyday reality.
In addition to the amazing medical teams at University of Iowa and Mayo, we are blessed to have a pretty incredible school nurse in our support squad. Our school nurse, Keri, shared she had previously been a brain tumor nurse at St. Jude's Children's Hospital and made a request to reach out to her former colleagues to see if they would review Joey's case and give us input. We readily agreed and felt blessed to have medical teams across the country reviewing Joey's case.
The Wednesday before Thanksgiving we received a call from the brain tumor roundtable of doctors at St. Jude's indicating they were accepting Joey's case. What a mix of emotions this call brought. We were thrilled to know Joey would be taken care of by such a world-renowned team and hospital, and yet, this is a place nobody really wants to have to bring their children (other than to visit)! We scheduled flights and prepared to visit Memphis. Joey was subjected to many tests, further MRIs and diagnostic imaging, and we were transferred to LaBonheur hospital for surgery. Joey underwent a biopsy to help the medical team determine the type of tumor that had invaded our little guy's brain. Due to the tumor's location being so close to the midline of Joey's brain and near so many converging blood vessels, the surgery needed to be an invasive procedure with the inherent risk involved. Nothing prepares you to kiss your baby, whisper "I love you", and watch a piece of your heart be wheeled off for brain surgery. The biopsy surgery, thankfully, went very smoothly. Joey, an avid Star Wars fan, woke up in the ICU saying, "The force has awakened!" Joy leaped into our hearts at this!
After surgery and Joey's recovery, we flew back to Iowa to celebrate Christmas with family while we waited for the biopsy results. Finally, the call came. The type of tumor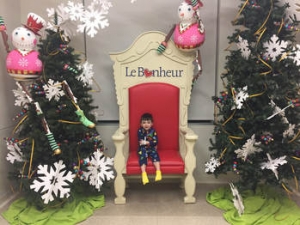 Joey has is incredibly rare (less than 100 cases are currently reported), but thankfully it is slow-growing. Surgery was scheduled for right after Christmas and we tried to have a faith-filled and memory making holiday season together. I found myself taking pictures and videos of EVERYTHING. All four children are by the Christmas tree – click. Joey is looking at an ornament – click. The kids have on cute pajamas – click. Photo after photo – because we honestly didn't know if we would have another Christmas with all four kids again. Would Joey survive this surgery? Would surgery be successful in removing the tumor? Would Joey wake up and know who we were? Would he be able to walk? Even if his body survives – will complications from surgery take the Joey we know from us? Unimaginable questions kept spinning through our heads.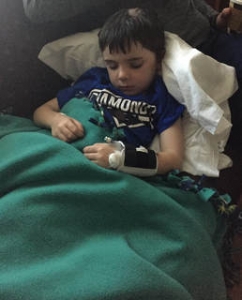 Right after Christmas Jim, Joey, and I once again boarded planes headed to Memphis. Another series of tests and surgery preparations ensued. We once again were in the hospital praying, begging, and hoping with all of our beings that surgery would be successful. On 12/29/2016, Joey underwent a six-hour surgery to remove his tumor. Surgery was successful in removing the majority of his tumor. Joey recovered from surgery over the next few days in the ICU – and we know the talent of his medical team, partnered with the prayers of many, helped Joey during surgery and into his recovery.
​
While we don't know what the future holds, Joey brings joy to our world each and every day. We pray for strength to handle whatever comes our way, and to try to not let the worries and fears of the possibilities overtake our lives. Concerns about tumor growth and future medical needs are daily fears that are impossible to ignore. Fear of uncontrolled seizures is ongoing. Due to the remaining tumor location – the fear of Joey losing his ability to walk and run, and just be a "regular" kid – is never far away in our minds. Joey's tumor is on his motor strip, which means it impacts his right leg strength and functioning. Each time he trips or falls, as little boys tend to do, we wonder…..are those tumor cells causing problems, or is that just Joey being a six year old?
Joey takes daily medications and Jim, Joey, and I travel back to St. Jude's every three months for a series of tests, MRI diagnostic imaging, and blood work. While were are blessed to have a medical "dream team" for Joey, each trip adds to the emotional, physical, and financial burden of this unwelcome journey. Each time we prepare for the trips, our emotions spike to high alert. For the weeks leading up to medical trips, we prepare luggage, we pack medications, we plan distractions to help Joey get through the medical procedures, and we brace ourselves. Preparing Joey for the trips is difficult, as he is fully aware of the procedures that are coming. He hates the needles, fights, and cries during IVs, and doesn't like "going to sleep" (being sedated) for his MRIs. We prepare our other three children to have mom, dad, and Joey be away from home for a week. I leave work, Joey leaves school, and we take a deep breath. And, we pray, and we hope.
Being the parent of a child with a brain tumor opens the door to a club of families – a club that you wish you never belonged to. (Don't get me wrong, the people in this club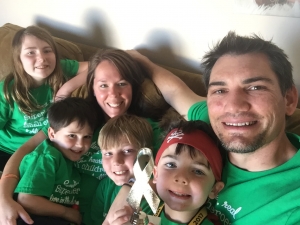 are amazing and incredibly supportive, but you still wish you weren't a member of this particular club.) The other night, I read a message from another "brain tumor mom" in this club, which sums up our trips back to St. Jude's pretty well:
"A mom I know posted today that her phone has rung 11 times since her child finished his MRI this morning. Each time, her heart stops, then starts when she sees it is not the call with results. Brain tumor families live through this every three months – praying they get a report of "stable".
We pray and HOPE for the best for Joey's future and nothing but reports of stable. We feel truly feel humbled and blessed, to have the support and prayers of so many people during this journey.
The Toburen Family
The Toburen Family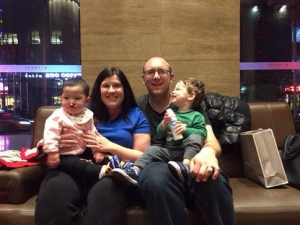 First, I checked out your website to know what the charity is and then to read the history. I think it's wonderful what you're doing and also very creative! Thank you for hearing our story!
We started our adoption journey three years ago and requested a healthy child only. We didn't think we could handle any kind of medical needs. A month into the adoption process we found out we were pregnant! We were overjoyed, yet disappointed we had to put the adoption on hold until our baby turned 6 months old (adoption agency policy).
My pregnancy was very difficult, scary and short-lived. I was on bed rest for three months and had our son two months early. I got congestive heart failure from the delivery and had to have back surgery from being on bed rest so long.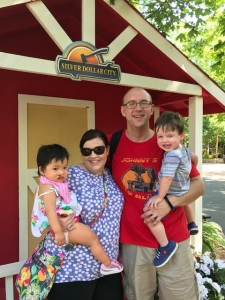 Our son, Sawyer, was born with a birth defect called Sagittal Craniosynostosis that required him to have skull surgery at three months of age and wear a helmet for six months. It was then that we felt like God was asking more from us. We changed our adoption request for a healthy child to special needs.
Had we not done that we would never have gotten our sweet Charlotte. She is 22 months old and has a bilateral cleft lip and a complete cleft palate. We brought her home from China six months ago and she had her first surgery on June 21st. Her next surgery is next week, September 27th. Her third will be in January and her fourth a couple years later.
The adoption took everything we had, $44,000. We have insurance, which will cover a lot of the surgeries, but the $4,000 deductible this year and next will be hard. Currently, my husband works two jobs – part-time children's pastor and full-time commercial loan administrator – but next year he'll go into full-time ministry! This is our family's dream and desire but it will cut our income in half.
This journey has grown us in so many ways and shown us that, although we think we know best, God knows better. We also know we're stronger than we think and can handle obstacles as long as we go through them together.
Thank you for considering us! It's wonderful what you're doing to help others.
-Daniel and Stacia Toburen
Fausto & Wilda
Fausto & Wilda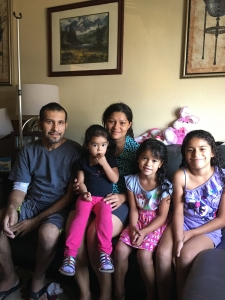 On July 9th, 2017 our lives changed drastically. My husband has been fighting for his health over the last several years now but had been feeling better and working consistently for quite a while. On July 9th it became clear that he needed to go to the hospital. He was in immense pain and could barely even speak. I drove him to the hospital terrified at what might happen next. There is no way I could have been prepared for the journey ahead in that moment, but by the grace of God we keep fighting day by day I stayed by my husband, Fausto's, side all night praying, crying out to God, not knowing why my husband didn't wake up. He couldn't open his eyes or speak. The doctors told me the next morning that alongside his diabetes he had been diagnosed with pancreatitis. As I understood, his pancreas was inflamed and no longer doing its job to process the sugar in his body. His diabetes complicated the matter. He was also diagnosed with hypertriglyceridemia and the doctors told me they would need to clean his blood through a very involved process over a period of 3 days.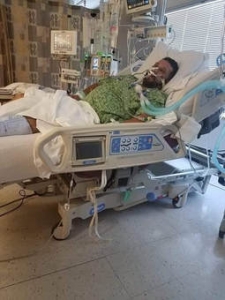 I was hopeful that after a week I would have Fausto back at home with me and that with some recovery time he would be able to go back to work. Unfortunately, due to many complications, Fausto remained in the hospital for 6 weeks! I don't even have words to describe how I felt during that time. Every day was such a desperate fight for life. Every day I would pray and hope that Fausto would make it one day more. I would hold his hand and talk to him not knowing if he could hear me.
The tension this situation placed on our family was difficult in so many ways…financial, emotional, spiritual. I previously had been working but with our three girls at home and school starting soon I had to find several jobs to try to make ends meet. Between working early in the morning and late at night I found time to go to the hospital and visit Fausto. Sadly, there were days I didn't have enough gas money to make it there, so I was unable to visit him. My girls wanted their daddy home and my 2-year-old didn't understand why she couldn't visit her daddy (as he was in the SICU).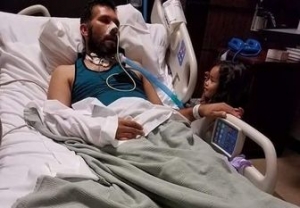 After Fausto was finally able to come home to us after 6 weeks, he had lost almost half of his body weight. He didn't even look like the same person. There were some complications with his transition home in that he couldn't keep any food down. Anything he ate, he would throw right back up. Within two weeks of being home, he had a follow-up appointment where we discovered he had lost 9 more pounds in two weeks. They rushed him to the hospital in an ambulance from that appointment and I was again left with my questions, fear, and desperate cries out to God.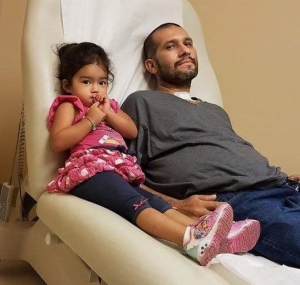 He was hospitalized for yet another week until he was able enough to come home. Now we are continuing to fight day by day alongside each other. He is getting better. He can walk around and he keeps his food down now. But we know the journey ahead of us is long and some days it is difficult to continue to hope. But I know God has not abandoned us. I have faith that God will heal Fausto. There are so many people that have stepped up to help us in our time of need and I am so thankful. I see the hand of God in the many people who have been there for us. The people who have helped me with rides for my children to school, those who have helped us with food, I have seen the body of Christ at work. Thank you for your generosity and for the support and prayers you are offering on our behalf. We could not do it without you.
Traci Shultice
Traci Shultice
My mind raced and thoughts crashed into each other as I heard my cancer diagnosis. I thought to myself, how could this be? You see, in November of 2016, I went to my family doctor with a large lump in my armpit. She assured me I was fine. The lump continued to grow and my mind began to wonder even more. What is going on, I thought? Two weeks and an antibiotic later, I went back to my doctor. This time, she set me up at a Des Moines hospital for a 3D mammogram and an ultrasound to examine the lump in my armpit.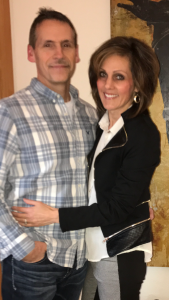 Nervously, I went to the hospital and had my mammogram and ultrasound. This time, the radiologist read my results. Everything looked "fine" and they sent me home. I was instructed to come back in six weeks if the lump was still there or getting bigger. The lump continued to grow and I returned to my doctor. In January of 2017, I was set up with an appointment to see a surgeon and have a biopsy. I took off work and went to the appointment. When I got there, the surgeon did an ultrasound on the lump. He said he was confident he knew what it was and would be shocked if it was cancer. He told me he could drain the lump now-which would continue to grow back or I could have surgery during spring break or in the summer since I am a teacher. I didn't want to mess with this lump anymore, so I requested the earliest surgery appointment.
On that cold January day, I lay on the gurney with a cozy, warm blanket covering me. I was smiling and laughing with my family as I went into surgery. "I got this", I said to myself. While in recovery, waiting for my husband and four children, I still thought I was fine and had no idea what was to come. My family's tearful faces soon joined me and that is when I heard the dreaded C word. You have cancer. Triple negative breast cancer. This cancer is known to be an aggressive breast cancer. I was told I had a cancerous lump in my breast, one in my armpit lymph node and one lymph node between my lungs and fourth rib.
The next weeks were a whirlwind of appointments: biopsies, breast MRI, PET scan and surgery to put in a port for chemotherapy. At the end of January, I said goodbye to my 25 kindergarteners and they had no idea I was done teaching that year. Going to work with little children who don't know how to use Kleenexes or cover a cough was no option with chemo!
I began 20 weeks of intense chemotherapy, which I wouldn't wish on my worst enemy. My ball cap with hair became my best friend. I soon found out the Kiss Shy brand of fake eyelashes were the ones that flattered me the most and I became an expert on painting on fake eyebrows. My chemo nurses said I should be the poster person for chemo. Really? I had 41 symptoms and came out of chemo needing two heart medicines. I guess my symptoms were not as severe as most. Cancer surgery was in the middle of July and lucky me, I had a former kindergarten parent who was a nurse, in the operating room. She too got to see my ta-tas (even though they were double A's). There went my modesty!
I went back to my Kindergarten teaching job at Westwood Elementary this school year. I can feel the love from my coworkers, friends, and family. My breast cancer journey continues as I finish this final phase of 33 days of radiation. I now have a nice sunburn and glow on my chest. I am staying upbeat and positive and every day I continue to say to myself, I GOT this!
Thank you, Holiday Streakers, for reaching out to my family and being a part of this journey with me.
​
-Traci
Joey Condon
Our family was blessed to be one of the 2017 recipient families of Holiday Streakers. Our son Joey, was diagnosed with a brain tumor when he was in Kindergarten and only 5 years old. Joey's diagnosis put tremendous stress on Joey and our whole family – emotionally, physically, spiritually, and financially. Being supported by the daily prayers, positive thoughts – from friends, family, and strangers who quickly became part of Joey's Journey through Holiday Streakers – was a true blessing. Knowing hundreds of people were sending positive thoughts, energy, and prayer with each footfall of exercise they committed to from Thanksgiving to New Year's Day was so powerful! During this period of time, we had air and travel and expenses for multiple medical trips for Joey. We also were mentally and physically preparing for additional treatments for Joey in December 2017. We are firm believers in the power of prayer, and having the support of Streaker Nation was felt by our whole family, particularly in December. A few days before Christmas, we received the amazing news Joey did not need to have another brain surgery at that time. Sharing that news with our family, friends, and all of Streaker Nation was simply incredible! In addition to the emotional support from Streaker Nation, we were blessed to receive a financial gift. This gift helped us pay off the remaining medical debt we accrued during Joey's initial diagnosis (amazing!) and has paid for three medical trips for Joey, my husband Jim, and me. We have also elected to donate some of the financial gifts we received from Holiday Streakers to St. Jude Children's Research Hospital to support children's cancer research.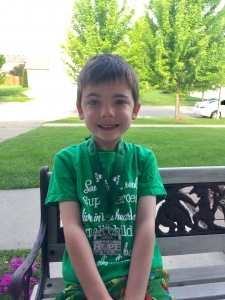 Streaker Nation is committed to supporting personal and physical wellness, all while supporting families enduring medical difficulty. While I never imagined our family would be on the receiving end of such a group, I can attest to the power of the experience and encourage everyone to join the mission of Holiday Streakers!
-Martha Condon (Joey)