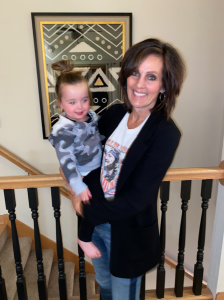 In 2017, I received devastating news that I had been diagnosed with Stage 3 Breast Cancer. Although the cancer diagnosis was horrible, good things came out of it.  I was fortunate to be taken in by the Holiday Streaker nation.  During that time, I gained new friendships, rekindled old friendships and received so much strength and prayers from people I didn't even know. I continue to have routine specialist visits, MRI's and blood work and I have been blessed with good health.
I would not change the path I have been given for anything.  Today, I love a little deeper, smile a little bigger, laugh a little harder, and embrace those that are dear to my heart. Right now those include my two new granddaughters, and of course my 22 little kindergarten friends.  Some would still consider me an expert "eyebrow maker"!  Chemo took those from me and they never grew back quite right.  Thank goodness for Maybelline!
I came out of treatment on two heart medications, osteoporosis, and on a daily preventative cancer medication.  I can go to bed at night with my handheld cross in my palm and know that I Got This!  Supporting Holiday Streakers since 2017 is something I am proud to be a part of and I am thankful that my husband does enough workouts for the both of us!
I am proud to be "streaking" with you this year and look forward to making this an annual tradition. I got a couple of other friends to sign up, so it will be fun to help expand the base in years to come!
Since you bestowed on us such immense generosity last year, the world as all of us know it changed. And our cozy little world changed as well. My husband Ryan passed away at the end of February of ALS. He publicly, bravely fought this vicious disease for four years. His presence is missed immensely around here. He had incredible wit and a general calmness about him that kept our house in balance. Since then we have done what any family would do, we've tried to figure out the grief cycle–at an adult and kid level–under the extra gloom of a pandemic. Personally, I am constantly searching for ways to keep Ryan's spirit, influence and legacy alive in our home and beyond. I've put a lot of pressure on myself! Our ALS Walk Team, "The RAT Pack," continued its streak as the ALS Association MN/ND/SD's top fundraising team with a 2020 total of over $84,000. It was the year that it felt like our quest to support ALS research meant the most, to truly honor Ryan's journey and our heartache. The kids are doing reasonably well; they are a reminder of how truly resilient children are, however, I have also learned how complicated it is to help others navigate grief. Let's just say it's a process! Someone recently said that as part of grief, we often try to establish a connection with our loved one. I feel like that's very much where we are right now. I try to bring Ryan into everyday conversation and reflect on him often. At this time of year, I am most inspired to find a way to incorporate him into the magic of Christmas by surprising the kids with a special gift from Daddy!
Martha Tofteland (Finn & Liv)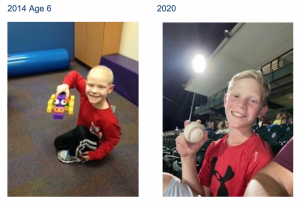 Holiday Streakers has become such an amazing organization with benefits for so many people and families….money for financial assistance, emotional support which is priceless, health benefits and inspiration for all Streakers, and the personal joy of helping people in need.  You should be so proud of what this has become!!!
Ryan- Ryan's cancer journey began at age six on October 1, 2014. He was taken by ambulance with breathing issues and started the first of eleven days on a ventilator while multiple doctors and nurses worked literally around the clock to keep him alive and figure out what was causing the lung issues, heart issues, and various other problems. One week later, they figured out that he had T-Cell Lymphoblastic Lymphoma. We started Chemotherapy the following day and the ventilator was removed three days later. He awoke unable to move his arms and legs due to the length of time on the ventilator combined with the medicine he received.
Ryan spent about 70 days in the hospital before going home. He was in and out of the hospital for the next few years and seemed to battle a new issue at every turn. Fortunately, he won every challenge including the battle to regain his strength and ability to walk again. He has been cancer-free for about 4 years. There are still "mini-battles" that he faces as a result of having cancer that will likely always be there, but on most accounts, he is healthy and back to living the life we've hoped he would get to experience.
Thanks to Streaker Nation for starting, continuing and expanding the support for families who are going through issues like Ryan and our family experienced. Your commitment and kindness affect families in ways we can't even explain. We couldn't be more grateful for the Holiday Streakers!
Jeff, Jennifer, Kyle, Reilly, Derek, and Ryan Johnson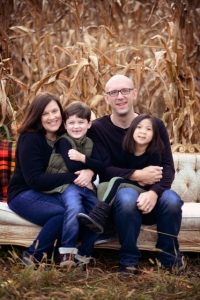 Hey there! Can you believe Charlotte turned five this month! She is now five like her brother until he turns six in February. She loves these months when they're the same age.
Charlotte is such a empathetic, smart and entertaining kid. She loves to learn so we're constantly looking up answers to her questions like "Does a sea cucumber have ears?" and "Does a bucket wheel excavator have stabilizers?" and "Why don't fan blades cut like a saw blade?" Needless to say, our heads are full of this (useless?) information now too, ha!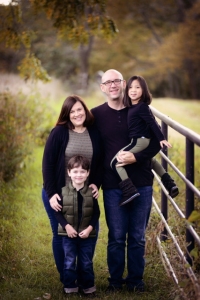 Charlotte has had four surgeries so far and next year will be the hardest on her – a bone graft surgery. This surgery can't be done until a cleft kiddo is 6, when the jaw has grown enough.
Although there are more surgeries to come she has come so far! She has speech multiple times a week (through preschool and the children's hospital) and works so hard. She never complains and rarely gets frustrated when a word isn't understood.
The first couple years we had to work so hard at attachment and trust, but it brings me so much joy to say now, at year three, she is very much attached and trusts us fully. She went from barely showing affection to now loving snugs and hugs. God has used this child to show me areas in my life I needed to work on and we have grown together.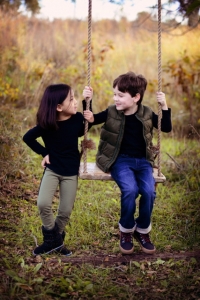 Charlotte is a very determined and independent child. She'll either be the CEO of a large corporation or run a prison gang, ha! She loves the Lord and is so kind and as a parent, I couldn't ask for more.
Thank you for what you do year after year supporting these families and individuals!
THANK YOU AGAIN for the amazing gift that the Holiday Streakers blessed me and my family with. Thanks to generous donations from you all and others, I have been able to recover from HSCT in a very relaxed, organic manner, instead of rushing back into working as a nurse during the pandemic while my newly transplanted immune system is still immature and working to recalibrate itself.  I can't explain how immensely helpful that has been.
I didn't realize how much time and effort the recovery process was going to require. The recovery from HSCT for MS is often referred to as a roller coaster, and that is an apt description. Recovery has been about more than just improving my blood cell counts. It has involved me relearning how to walk in proper alignment, both loosening and strengthening formerly spastic muscles, drawing and painting and threading beads to improve my hand eye coordination, working my balance, my ability to process complex thoughts and multiple things at once, as well as processing and healing from the mental/emotional trauma of the 23 months since I was unexpectedly diagnosed.
At this point, I am doing very well. With the exception of a random rough day every month or so, it would be hard to believe that just a year ago I was struggling to maintain my ability to walk without an assistive device. I used to experience moderate pain daily, and now I am almost completely pain free. Honestly, with the exception of a random tight muscle day here and there, and random tired day a couple times a month, and occasional neuropathy in my feet, I no longer experience the difficulties that were caused by the lesions in my brain. The improvements I have experienced in this short amount of time are incredible. The treatment I underwent truly changed my life.
I'm immensely grateful for my health, and grateful for all of the love, prayers, and support that myself and my family have received through this challenge. Thank you Holiday Streakers. Thank you.
Sincerely,
Rachel Rhodes
Since January, my cancer has come back again so I have been trying different medications that unfortunately have not worked.  I am now enrolled in a clinical trial at Mayo in Rochester where they will do a biopsy of my liver and then inject a shot (it's actually a measles shot) into my liver.  They hope that this will ramp up my immune system which will fight off any cancer cells that are there or that reappear.  After the shot, in 21 days they will do another scan to see if the shot has worked.  If not, we will go to the next option, which I do not know what that will be.  I am very hopeful that this shot will work!
With the money that was given to me and my family, we put that towards our Universal trip.  We were supposed to go in June 2020 but obviously, that did not happen.  We hope to go in June 2021.  Thank you so much to Holiday Streakers for helping our family take a trip to make memories, which is something I want to do more of so that our girls have those memories that they can have with them forever.
Thank you!
Jessica Kramer and family